How to prepare for your mechanical aptitude test or mechanical reasoning test
Mechanical aptitude tests, or mechanical reasoning tests, are commonly administered for technical and engineering positions. The mechanical aptitude test measures your ability to understand and apply mechanical concepts and principles to solve problems.
Are you likely to need to take a mechanical aptitude test?
Job seekers applying for technical and mechanical roles are likely to be asked to complete a mechanical reasoning test. Positions for which a mechanical reasoning test is common include: fire brigade, train drivers, trades people, operation and assembly-line workers. The level of difficulty and complexity of the test questions varies according to the required skills.
Mechanical aptitude test example questions
If the panel moved in the direction shown, in which direction would the gear rotate?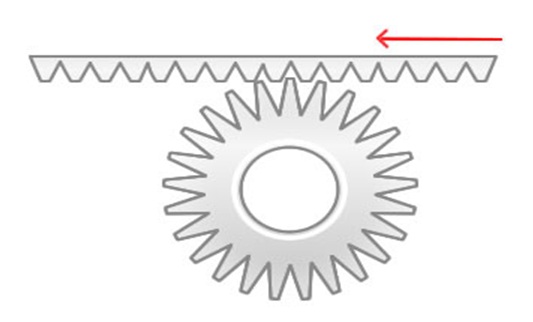 Anticlockwise
The moving panel would produce no movement in the gear
Clockwise
Answer explanation:
In this case, the correct answer is 'Anticlockwise'. The panel will move right to left. This means that the top of the wheel will move right to left, while the bottom will move left to right. This means the wheel will rotate on its axis in an anticlockwise direction.
What to expect in your mechanical aptitude test?
A mechanical aptitude test includes a set of mechanical problems that must be completed in a predefined time.
The time limit is designed so that only 1% to 5% of the population can correctly solve all the test questions within the allowed timeframe.
Each test question has only one correct answer.
Each test question offers you a mechanical scenario that might include acceleration, gravity, friction, pressure, moments, energy transformation, kinetic and potential energy, work and power, levers, pulleys, screws, gears, springs, etc.
You should expect to have around 30 seconds to complete each test question.
The level of complexity and difficulty of test questions depends on the position you are applying for. As an example, the test questions for job seekers applying for managerial roles will be at a higher level of difficulty and complexity than those for candidates applying for entry-level roles.
Improving your test score on the mechanical aptitude test can be achieved through developing simple factors to solve test problems, such as the right techniques and frameworks.
How we prepare you for your mechanical aptitude test
IPC's online practice mechanical reasoning aptitude tests:
The largest pool of mechanical aptitude test questions.
All test questions and answers are developed by experienced psychometric test writers.
Immediate full test reports that include your total score, a list of your correct and incorrect answers, and detailed explanations of answers. This ensures you quickly recognise your strengths and the areas that need improvement.
Immediate and practical recommendations on how to improve your outcome.
Effective solutions to train your mind to quickly recognise patterns and correctly solve problems.
IPC's online mechanical aptitude test courses:
Know the do's and don't's of the mechanical aptitude test.
All course material is developed by experienced test writers.
Learn effective aptitude test-taking strategies to ensure you answer more questions in the given time.
Understand how to prepare for your mechanical aptitude test.
View example mechanical aptitude test questions and learn how to solve each one.
IPC's personal coaching:
One-on-one coaching with an IPC psychologist to ensure you improve your scores.
Get an expert to tell you your relevant strengths and weaknesses.
Receive personal guidance on how to improve your aptitude test-taking skills.
Coaching is delivered over the telephone and outside of business hours to ensure you get the most from your coaching.
IPC's preparation services work:
All our preparation material is written by experienced British occupational psychologists and psychometric test writers.
Contrary to what is commonly believed, you can prepare for your aptitude test and significantly improve your test score. We have worked with over 200,000 satisfied customers who improved their aptitude test scores.
We don't just give you any aptitude test to complete – we ensure it fits the level of difficulty you'll find in your real test
We don't just offer you a list of aptitude test questions (which is NOT an effective preparation strategy), but we give you detailed answer explanations to ensure that you learn the right problem-solving techniques.